Membership Details
We tried to make the operation of the club simple.
Members sign on for a given number of fishing days (10, 20 or 30). They have the use of the boats and the Bermuda house or Costa Rica condo for those days. If you use the boat on your assigned day, the member pays a usage fee to cover fuel, drinks and food ($1,000 for 2009). The only other expense is tips for the captain and crew.

Membership Options
| | Days | Membership Dues |
| --- | --- | --- |
| Sailfish | 10 | $15,000 |
| Marlin | 20 | $27,000 |
We offer membership in the club in three levels: 10, 20 and 30 days. The annual cost of each level is shown in the grid at right. The cost per day drops as a member signs up for more days. The other rights and costs of membership are identical for each level. We anticipate increasing the dues after April 1, 2009. Because the Bermuda Blue Marlin Season is the shortest season, we limit the number of days that a member can select during that period. The usage fees, intended to be a fixed fee to cover the cost of fuel, bait, food, ice, drinks, etc. will be set annually around April 1. For 2009 the daily fees are $1,000 in Bermuda, Costa Rica and Panama. Except for tips for the captain and crew, this is a member's only marginal expense.

Black & Blue Fishing Club Schedule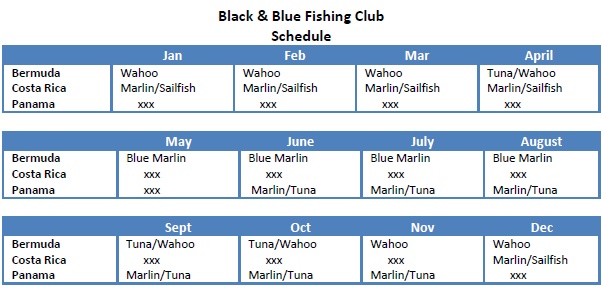 Cost Comparison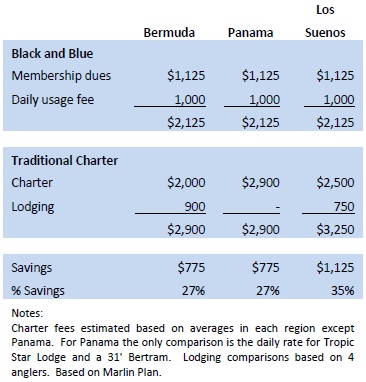 If the Black & Blue Fishing Club is designed to be an alternative to boat ownership, the membership and usage fees are obviously a small fraction of the capital and running costs of owning a boat.
Many of our members will continue to own a boat at home and look to the club as an alternative to chartering – if such charters are available. The Club is intended to provide members a boat and crew that is theirs – no uncertainty or worry as to the quality of the experience — an operation that you are confident to send friends, clients and family, without you having to be there. Despite the advantages of Black & Blue, we present a comparison of Club membership verses chartering in the graphic to the right:
Scheduling Logistics
Any member that joins before April 1, 2009 (regardless of membership level) will be a Founding Member for as long as they remain a member. Founding Members will each select their days for the following 12 months on April 1 and the club will manage any date conflicts between Founding members in the weeks before and after April 1 of each year. All other members will be able to select their dates for the upcoming year (defined as each April 1 – March 31) in the priority order of the anniversary date of their membership.
Weather days (small craft warnings in Bermuda and at the Captain's discretion in the Pacific) will not be counted as a used membership day. Every effort will be made to reschedule your day as close as possible to your desired period. The club has hired help to assist with the scheduling and accounting associated with members' fishing.

Legal Structure
Members will be buying a Class A share of Black and Blue Fishing Ltd. in exchange for their Membership Fee. This share allows you the use of the Company's assets for the ten days. Each April 1 these shares are redeemed for $1 or a new Membership Fee is paid.
Frequently Asked Questions
In designing the Black and Blue Fishing Club, we have had the benefit of advice from many friends in Florida, Virginia, North Carolina, Costa Rica and Bermuda. The questions we hear most frequently might be on your mind as well.
What if the house/condo is not available during a day I selected to fish the boat?
You will always be advised if the house or condo is available as you make your initial reservations. If the lodging is not available, you may change your selected day or proceed knowing that you will have to find alternative lodging. Once you are confirmed as having a lodging reservation, this will only change in the case of major damage or malfunction at one of the residences.
Can I select all of my days in one location?
Yes. When you schedule your fishing days, you may elect to use them in any of the three locations, or in just one.
Are there any other restrictions?
A minor one. Under Bermuda Law, an individual normally resident in Bermuda will not have access to the Bermuda house.
Can you give me an example of how the scheduling would work?
Assume that there are four members. Mr. A and Mr. B are Founding Members, Mr. C joined in May and Mr. D joined in July. On March 1 each of the members will receive a communication reminding them to have their date selections to the Club Secretary by April 1. Being diligent souls, all four members comply and have their desired dates into the Secretary before April 1. Those date selections were:

The Club Secretary would advise Mr. A and B that there is a conflict on June 10 and would ask each member if they could adjust their dates. If no such accommodation could be made, the 'winner' of June 10 would be selected at random and the 'losing' member asked to pick a replacement date. Mr. A and Mr. B would have their other selected dates confirmed.Mr. C would be advised that his August dates are confirmed but only June 7 is available in Bermuda. He would be asked to select three new replacement dates. For the sake of argument, let's assume that he picked February 5, 6, 7 in Costa Rica. Mr. C, as he joined earlier than Mr. D would get those dates. Mr. D would have his October dates confirmed and be asked to select three new dates as February 5, 6, 7 are not available. We will encourage Members to schedule only a portion of their days where their plans are certain, retaining the maximum flexibility for all. The Club will maintain a secure website on which the calendar of each boat, and its availability can be viewed in real time.

What if I do not use the boat on a day that is assigned to me?
No problem. If you do not make the trip at all, the lodging will be empty and the Usage Fee will not be charged. We will attempt to reschedule your day as availability allows. Alternatively, you might choose to spend the day exploring the Costa Rica rain forest with your family. Again, you will not be charged a Usage Fee for that day and you will have the use of the lodging.
How can I be assured that the boats will be available and maintained appropriately?
Two of your fellow members own the boats. They are both experienced boat owners with a commitment to maintaining the boats as they should be. In fact, one of the main benefits to the Club arrangement is that you are not locked into a syndicate of fellow owners, each with their own financial concerns, frequently deferring needed maintenance. Ultimately, we all want to fish on well maintained boats, this arrangement is designed to avoid the pitfalls that many boat sharing partnerships experience.
If I find I do not use my days what can I do?
Once a level of membership is selected for a year, the Membership Fee is non refundable. Next year, obviously, you could drop to a lower level of membership that better suits your usage, or withdraw completely.
Can I share a membership with another individual?
While there is no prohibition against sharing a membership, there will be no express accommodation of such arrangements. There will be one named owner who will have the power to speak on behalf of that membership and who will be responsible for Usage Fees.
I am interested, but I don't know the principals. Is there a way I could check their references?
The first two members of the Black and Blue Fishing Club were Jason Doyle of West Palm Beach and Jeff Radke of Bermuda. Jason works at Doyle Insurance and fishes in Florida and the Bahamas. Jason's number is 561-351-7901. Jason will be your main point of contact as a member. Jeff Radke runs a consulting business in Bermuda and fishes in Bermuda and Costa Rica. Jeff's number is 441-300-3707.
What about tournaments?
Los Suenos runs three major tournaments a year, as does Bermuda. Allen DeSilva has long standing tournament anglers and would like to continue these relationships. If you have a strong desire to fish a Bermuda tournament, please let us know and we can discuss this. If you have a desire to fish a Tournament you may do so at your expense if the days are available. To avoid confusion with the captains and crew, we ask that all members agree that 30% of any winnings will go to the captain and crew. Give me a sense of the flights to the three spots. We looked at how to get to our three locations from South Florida, the New York area and Texas. Each have a number of non-stop flights to Costa Rica and Panama. Bermuda will require a connection for those starting in Texas.
Are there plans for expanding the Club?
Yes. Depending on interest, we are considering adding the southern Bahamas or Dominican Republic to our list of destinations. We would be interested in your thoughts on this.
How will the Usage Fees be billed?
We will ask each member for a credit card number to bill the $1,000 (for 2009) daily Usage Fee. Once the Club has confirmation that you did use the boat (for any portion of the day), you will be asked if you wish to send a check, wire or to have your credit card charged.